This is the kind of autumn that I love! Golden leaves and sunny October days… time to put our hiking shoes back on again! We like to be out and about with other people, wich is the reason we joined the "Stuttgart Hike and walk Group" (former "Outdoorsports Group) of the international Expat community Internations (their Stuttgart section, obviously). In fact, my boyfriend and me even got to know each other there… But that's a whole different story.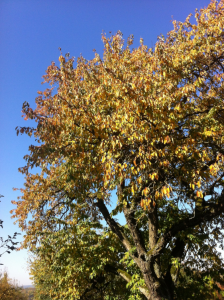 Germany's most beautiful wine town
Back to Besigheim:  Sunny Vineyards, impressive rock gardens with a great view, half timbered houses and cozy wineries is what you can expect from Besigheim and its surroundings. In 2010 Besigheim was even chosen as "Germany's most beautiful wine town" by viewers of MDR television. And rightfully so! Most recently it was also voted Germany's most picturesque wine place.
Easy to access
Besigheim is situated 13 km north of Ludwigsburg means you can easily go there by S-Bahn or train and you don't neseccarily need a car. In the summer months you can also reach Besigheim with the Neckar passenger ferry – both from Heilbronn and from Marbach.
Old beauty
I was stunned by the beauty of this state-approved resort town, wich was founded in the 12th century. It has many old builidngs and a town hall that dates back to 1459, midieval towers, gothic churches and a cobblestone market place.
When you pass right through the city and leave the confluence of the Neckar and Enz rivers behind , you will immediately find yourself at the beautiful countryside.
After a few kilometers you will reach the Besigheimer Felsengärten, an absolute unique highlight. We walked through the unique rock gardens and enjoyed the stunning view. Lots of peope went there for rock climing, too.
Felsengarten winery
After climbing our way up and down, we took a break at the Felsengartenkellerei (Felsengarten winery) just outside of Hessigheim. And there we finally got our reward:
Due to the looooong cues we had to wait in for our drinks (caution: It can be it crowded as hell, if the weather is nice) we shortened our way back a little.
After returning to Besigheim, we had to, of course, try another wine. And eat another meal. It's been a day after my fancy 😉
Hike Details:
Difficulty: moderate (Participation is at your own risk)
Distance : 14.9 km
Duration: 4 h (plus breaks, so the end time may vary.)
Ascent: 324 m
Descent: 324 m
Attire: Sturdy shoes, clothes, and rain protection
Further informations and hiking tours:
https://www.outdooractive.com/en/hi …
https://www.tourismus-bw.de/Media/T ….
Photos: Pavan Kumar Shankara, Balázs Erdei and Rebekka Hees