Who can resist, when there's an art and fashion event and on top of that…. for free?  Not me, for sure, so hello there "UNIQLO Art Weekend"!
End of 2016 the Japanese global fashion brand has opened its first store in Germany (outside of Berlin) in Stuttgart. As a gift to the city, UNIQLO then decided to invite all residents to the Kunstmuseum Stuttgart – for twoo weekends in 2017 for free! And now they did it again. The cooperation's goal is, to make art accessible to a larger audience, which I think is pretty cool!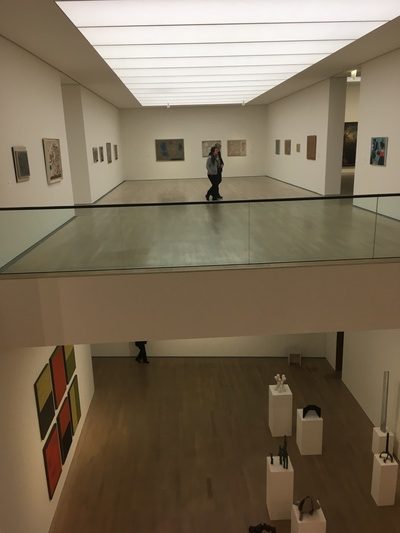 UNIQLO colaborates a lot with the art scene worldwide, such as with the Museum of Modern Art in New York or the Tate in London.
Sooooo, what was there to see? ART….
Basically you could enter all exhibitions for free and you could wander around, looking at the retrospective of Patrick Angus, which let you take a glimpse of New York's gay and bar scene in the fifties. Besides that, you could take a look at the Museum's new presentation of its art collection, as well as Reihnhold Nägele's portraits of Stuttgart through the ages of 1910-1930. Quite the mixture, actually!
… and marketing! Aka the art of marketing!
As for the marketing part, we could take some funny pictures in a photo booth and win some…. Socks, haha!
We litteraly won some socks at a tombola that we could collect at the store in Königstrasse. They did not have my size though, so my boyfriend got mine, too. Quite a good marketing strategy, because of course I took it as an excuse to buy something else, lol. No seriously, I guess they made some big exra cash that day, luring people into their shop with little vouchers and… socks. Well done! I have to say this was fun and we'll come back next year, if they will do it again.
INFO
Kunstmuseum Stuttgart (please click here)